The symposium is held on
Higashi-Hiroshima campus
of Hiroshima University.
Maps and direction to Hiroshima University
Higashi-Hiroshima campus can be easily reached from Hiroshima International Airport (HIJ).
Hiroshima International Airport
By bus and JR train
From Hiroshima international airport to Shiraichi Station (JR train)
Go to the "Shiraichi Station" bus-stop located outside the airport building. A bus ticket (380 yen) can be purchased from the ticket machine on Arrival Floor of the building (
detail information
).
Get off at the last bus stop "Shiraichi Station" (~13 min.).
From Shiraichi-Station to Saijo-Station
Get on the train at platform number 2 or 3, direction for "Iwakuni" or "Hiroshima".
The trains leave at 15 minutes intervals.
Get off at "Saijo-Station" (~15 min.), it is at the second stop from Shiraichi-Station.
From Saijo-Station to Higashi-Hiroshima Campus
Please refer to the campus map to determine which bus stop to get off at when you reach the Higashi Hiroshima Campus.
Buses depart from bus stop 3 in front of Saijo Station, direction for "Hiroshima University"
Get off at bus stop "Hirodai-Chuoguchi" (~15 min.) to reach Faculty Club.
Get off at bus stop "Hirodai-Higashiguchi" (~20 min.) to reach the Hiroshima Synchrotron Radiation Center.
By taxi
A taxi from Hiroshima International airport to Higashi-Hiroshima campus takes about 40 minutes and costs ~6,000 yen.
Faculty Club
Oral and poster sessions are held on the second floor of Faculty Club.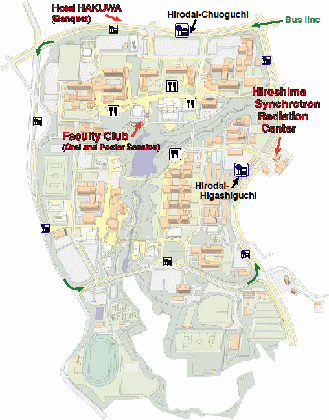 Accommodations
Guest House on Hiroshima University Campus
If you are interested in booking of Guest House on Hiroshima University, please let us know.
3,800 yen (single room with bath)
Hotels nearby Hiroshima university
Hotel HAKUWA
HAKUWA hotel is located in front of the main gate of Hiroshima University, which is within walking distance to Faculty Club ( ~ 5 min.).
~ 6,000 yen (single room with bath)
Address: 6-5-45, Saijo-shitami Higashi-Hiroshima city, Hiroshima
Postal Code: 739-0047
TEL: +81-(0)82-431-1111
FAX: +81-(0)82-431-4455
Toyoko-inn
1 minute walk from "Saijo Station".
~ 6,000 yen (single room with bath)
Address: 12-2, Saijo-honmachi Higashihiroshima-city, Hiroshima
Postal Code: 739-0011
TEL: +81-(0)82-422-1045
FAX: +81-(0)82-422-1046