Outline of the Facility
Through a series of discussions by the university science council, the Hiroshima Synchrotron Radiation Center (HiSOR; The center is often referred as HiSOR (Hiroshima Synchrotron Orbital Radiation)) was founded in 1996 as an interdepartmental shared educational research facility to carry out synchrotron radiation research in the vacuum ultraviolet - soft x-ray range and foster human resource development. In 2002, the center was reopened as a national shared-use research facility, and since then, the center has been open to researchers from all over Japan, and collaborative studies involving Japanese and overseas researchers have been conducted. In 2003, the center joined the National University Laboratory Center Director Council. HiSOR can be characterized as follows:
A synchrotron radiation facility inside an educational and research organization that fosters many young researchers and engineers.
A facility that handles synchrotron radiation in the ultraviolet to soft x-ray range.
Promote basic studies in life sciences and physical sciences, particularly solid-state physics.
Highly flexible synchrotron radiation equipment consisting of a small synchrotron radiation source and two undulators.
Research system setup and development suitable for nano sciences (special educational research fund).
Human resource development
The center is part of the Graduate School of Science, and it is involved with fostering human resources through not only lectures and seminars, but also through national shared-use research activities. University students and graduate students have participated in domestic and international collaborative research to conduct experiments alongside Japanese and overseas researchers. Students have also participated in advanced research on synchrotron radiation sources.
In 2006, guidance was provided to 30 university students and graduate students in different fields to assist them in their graduation research and dissertations.
In addition, six post-doctoral researchers (three foreigners) and two research assistants (both foreigners) were hired to foster young researchers. Furthermore, one foreign visiting instructor has been hired to foster international educational research.
At the 11th Hiroshima International Symposium on Synchrotron Radiation (held annually in March), elite researchers in and out of Japan gave lectures on nano science research using synchrotron radiation, and students gave poster presentations explaining center activities to gain international experiences and improve presentation skills.
The center has programs for high-school students and has been actively involved with facility tours, synchrotron radiation training, classroom lectures in high schools, and open lectures. In 2006, a total of 442 people toured the center.
Research promotion
HiSOR has advanced synchrotron radiation electronic structure analysis, and this research is widely recognized as the world's most advanced. Researchers from the center have given keynote lectures at international conferences on synchrotron radiation to further solidify the uniqueness and position of HiSOR. Research on high-temperature superconductors and typical metals has advanced markedly, and researchers from the center have been invited to talk at many international conferences and workshops. These activities have led to collaborative research with notable overseas organizations such as Stanford University and Princeton University in the US, Saarland University in Germany and Fudan University in China.
The "National Development of Synchrotron Radiation Nano Science" has been operating with a special educational research fund (core formation), and the project has advanced the foundation for carrying out synchrotron radiation spin structure analyses. The foundation for nano structure creation and direct observations by scanning tunneling microscope has simultaneously attempted to markedly advance the clarification of spin structures controlling various magnetism, which only occurs on magnetic super-thin films, such as super-thin iron films on copper single-crystal boards.
World-class findings have also been obtained in photochemical reactions on solid surfaces and the conformational analysis of in situ biomaterials.
Center activity reports are published annually.
The center has been active in human and information exchange through international collaborative research with overseas researchers, mostly in Asia. The center has also given opportunities for foreign students (graduate students) and young researchers (post-doctoral students) to earn degrees through HiSOR and participate in different research projects.
In collaboration with the High Energy Accelerator Research Organization, HiSOR has promoted exchanges with key universities in China through collaborative studies using synchrotron radiation and academic exchange. The center has ties with nine elite international research organizations, including Stanford University in the US.
Furthermore, the center hosts the Hiroshima International Symposium on Synchrotron Radiation every year at the end of March, and HiSOR activities are presented to seek the opinions of researchers on facility plans and equipment setup. In 2006, the 11th symposium was held. The contents of each symposium have been published as proceedings.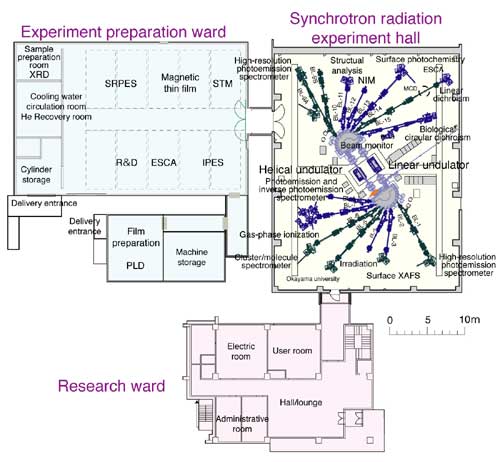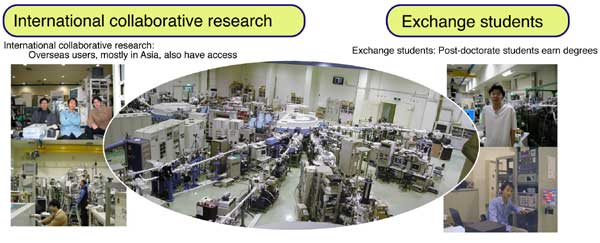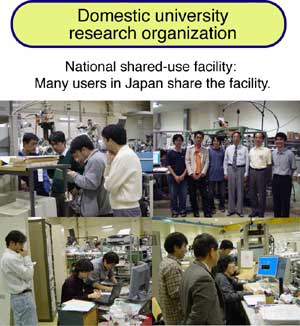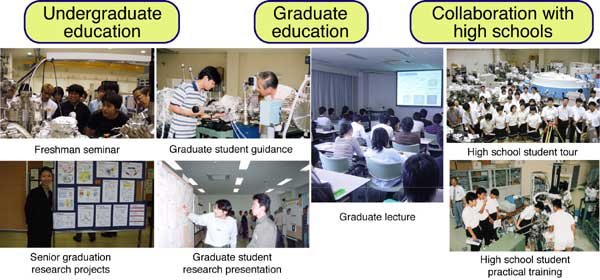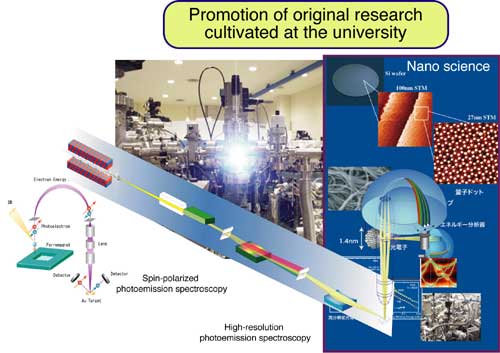 History
The center's history begins when a preparatory committee was launched in 1983, and the committee began working with Hiroshima University, local industries and prefectural agencies, and in 1996, the center was recognized as interdepartment shared educational research facility. At six years after its inception, the center was converted to a national shared-use facility.
1983
Preparatory committee formed
1984
Preparatory room opened
1986
Submitted budget request to the Ministry of Education of Japan emphasizing a medium-scale synchrotron radiation facility plan
1987
Submitted budget request to the Ministry of Education of Japan emphasizing a medium-scale synchrotron radiation facility plan
1988
Submitted budget request to the Ministry of Education of Japan emphasizing a medium-scale synchrotron radiation facility plan
1989
Added the chair for optical properties of solids within the Graduate School of Science
Study on medium-size synchrotron radiation sources and their usage (allocated from special university educational research fund)
1990
Preparatory study for HiSOR plan (allocated from special university educational research fund)
1991
The Japanese Society for Synchrotron Radiation Research, Supported the expansion plan
Preparatory study on electron beam usage at HiSOR (allocated from special university educational research fund)
1992
Preparatory study on novel beam lines (allocated from special university educational research fund)
Launched council to promote the establishment of HiSOR (September)
Chugoku Economic Federation, Hiroshima Chamber of Commerce and Industry, Hiroshima Keizai Doyukai, Chugoku Technology Promotion Center, etc.
1993
Formulated the compact synchrotron radiation facility plan along with medium-scale synchrotron radiation facility plan
1994
Completed investigations on small-size synchrotron radiation sources, peripheral equipment and buildings
1995
Preparation room council and preparatory committee decided to concentrate on compact synchrotron radiation facility plan
Science Council Accelerator Division Hearing
1995 Supplementary budget Commencement (light source: HiSOR, building)
1996
Inauguration of HiSOR (ministerial facility) (May)
Interdepartment shared educational research facility
2 professors, 2 associate professors, and 2 research associates
1997
Budget request. Approved for one professor and one associate professor (type II visiting division)
Synchrotron radiation was emitted by HiSOR
1998
Passed the radiation facility test. 100 mA accumulation
Budget request. Approved for one professor (type I visiting division)
1999
Constructed the Okayama University Beam Line
Launched the Council of HSRC Research Promotion (April)
2001
Hosted the Joint Symposium on the Annual Meeting of the Japanese Society for Synchrotron Radiation Research (Hiroshima University)
4th Asian Forum on Synchrotron Radiation (Hiroshima University)
Budget request. Approved for one professor (type III visiting division)
2002
Reopened as a national shared-use facility
Division reorganization. Basic Science Division, Accelerator Research Division and Synchrotron Radiation
Research Division. Approved for net increase in the number of professors by one.
Joined the National University National Shared-use Laboratory and Research Center Council
Joined the National University Laboratory Center Director Council
2003
Hosted the International Symposium on Synchrotron Radiation Research for Spin and Electronic States in d and f Electron Systems (November). Invited experts on synchrotron radiation from all over the world.
An article on electronic structure analysis of carbon nano tubes was published in the Nature.
2004
Collaborative research with SPring-8. High-energy photoemission spectroscopy
2005
Special educational research fund (core formation fund)
Began the 5-year plan "National Development of Synchrotron Radiation Nano Science"
Based on an academic pact between the Chinese Academy of Sciences and Hiroshima University, a collaborative research memorandum was signed with the Institute of Physics (March)
University measure. Approved for one assistant (fixed term) (light source system)
2006
10 year anniversary ceremony (May)
Began collaborative research with Mazda and Hamamatsu Photonics K.K.
2007
Hosted the Joined Symposium of the Annual Meeting of the Japanese Society for Synchrotron Radiation Research and HiSOR (International Conference Center Hiroshima) (January)